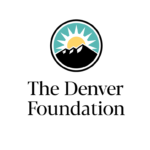 ---
With the support of donors and in partnership with the community, The Denver Foundation distributed millions of dollars in grants in 2020. Here's a recap of the final grants of the year.
For more detail on COVID-19 related grantmaking and donor-advised giving, read our 2020 Report to the Community.
Critical Needs Fund
Through this emergency fund, The Denver Foundation distributed $360,000 to five organizations that are addressing food insecurity across Colorado, which has increased greatly due to the pandemic. This is in addition to more than $1.5M in grants distributed through the Critical Needs Fund between March and October. These CNF grantees are:
Colorado Blueprint to End Hunger
Family Resource Center Association
Feeding Colorado
Metro Denver Homeless Initiative
Colorado Coalition for the Homeless
Denver Immigrant Legal Services Fund
A partnership between The Denver Foundation and the City of Denver, the Denver Immigrant Legal Services Fund supports qualified organizations that provide direct legal representation to low-income, unauthorized individuals who are current residents of Denver and who are subject to potential deportation. In late 2020, the following organizations received grants through the DILSF, bringing the total funding through this fund to nearly $1.09M since 2018.
Rocky Mountain Immigrant Advocacy Network (RMIAN)
Justice and Mercy Legal Aid Clinic
Lutheran Family Services
Catholic Charities
Black Resilience in Colorado (BRIC)
With the generous support of donors, who have invested nearly $1.3M in this new fund since its launch in June, BRIC distributed $467,500 in grants in its inaugural grant cycle. The 29 Black-led and Black serving nonprofit organizations to receive BRIC funding are:
Athletics & Beyond
SCD Enrichment Program
Issues of Life Church Ministries Aurora
Apprentice of Peace Youth Organization
The New Hope Baptist Church
Second Chance Center, Inc.
Another Life Foundation
Soul 2 Soul
New Dance Theatre, Inc.
RISE 5280
The EduCtr
Rocky Mountain Public Media
Park Hill Pirates Youth Sports Organization
Denver Kappa Alpha Psi Scholarship Foundation
Young African Americans for Social & Political Activism
Make a Chess Move-MACM
Thelma's Dream
Crowley Foundation Inc.
Project VOYCE
Curls On the Block
Fighting to Farm
Black American West Museum & Heritage Center
5th Element Center for Dance
Ethiopian Community Television
Boss Generation
Foundation for Black Entrepreneurship
HOPE Center
Community Grants Program
Through the second Community Grants Program cycle of 2020, The Denver Foundation awarded nearly $1.9M to 113 organizations across Metro Denver. Grantees are:
9to5 National Association of Working Women, 9to5 Colorado chapter
Adams County Housing Authority/ Unison Housing Partners
Aurora Economic Opportunity Coalition
Bridge House
Clayton Early Learning, Trustee, George W. Clayton Trust
Colorado Center on Law and Policy
Colorado Criminal Justice Reform Coalition
Colorado Children's Campaign
Colorado Immigrant Rights Coalition
Colorado People's Alliance 
Community Outreach Service Center
Delores Project. The
Denver Homeless VOICE
Denver Indian Family Resource Center
Denver Public Schools Foundation (FACE Centers)
East Colfax Community Collective- Fiscal Sponsor 
Empowerment Program, Inc., The
Engaged Latino Parents Advancing Student Outcomes
Family Resource Center Association
Florence Crittenton Services of Colorado 
Generation Schools Network
Hope Communities, Inc.
Intercambio de Comunidades
International Rescue Committee, Inc.
Lincoln Hills Cares
Maria Droste Services of Colorado, Inc. 
Mile High Ministries/JAMLAC
Moonshot edVentures
Outreach United Resource Center, Inc.
Re:Vision
RedLine
Somali American Community Center of Colorado 
Together Colorado
United for a New Economy
Village Exchange Center 
West Community Economic Development Corporation
Westwood Unidos
Young Invincibles
Youth Initiative of Adams County, Inc. aka Adams County Youth Initative