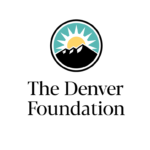 ---
A remarkable career in donor service will culminate on July 31.
As the hundreds of families who have worked with her will attest, Sarah Harrison truly cares about helping generous people invest in the causes and organizations that mean the most to them. She also cares deeply about the people of Metro Denver.
"My goal was always to be in service to the community," says Sarah. "I constantly tell donors, 'Your philanthropy is important and vibrant. Let's figure out how we can meet your goals, and let's explore some things that you and The Denver Foundation can do together, side by side.'" 
"Vibrant" is a word that certainly applies to Sarah herself, whose humor, energy, and passion are as much a part of her approach to fundraising as her strategic thinking and deep commitment to timely, personalized service. These qualities are among the many reasons Sarah Harrison holds a very special place in the history of The Denver Foundation and the Denver community, and will be missed following her retirement on July 31.
"It would be impossible to overestimate Sarah's impact over the past 20 years," says Javier Alberto Soto, president and CEO of The Denver Foundation. "She has been so instrumental in supporting our donors and connecting them to the issues that are closest to their hearts. She's also served as a mentor and guide to many members of our staff. We are so grateful for Sarah's dedication, expertise, and commitment to this work. We wish her the very best."
Sarah spent 38 years in the nonprofit sector, including 20 years at The Denver Foundation, where she served in various roles including vice president of philanthropic services and, most recently, special advisor for engaged philanthropy.
My career has been rewarding and educational, and it has been an honor to work with generous donors, collaborative colleagues, and innovative nonprofits throughout my 20 years with The Denver Foundation.
Sarah Harrison
Throughout her tenure with the foundation, Sarah's extensive experience in complex major and planned gifts, best practices in family philanthropy, and donor stewardship have been instrumental to the organization's exponential growth and impact. Between 2002 and 2022, she served on teams under which all assets grew from $196 million to $1.2 billion. Endowed assets grew from $60 million to $400 million. Annual grantmaking from all fund types grew from $16 million to $115 million. In 2006, with then Vice President of Programs, Jeff Hirota, Sarah created the Critical Needs Fund. Millions have been distributed through the fund to support work around hunger, homelessness, refugees and asylees, and catastrophic events, such as the COVID-19 pandemic. 
Sarah also created the Community Legacy Society to encourage and honor estate and legacy gifts to The Denver Foundation. The society now has approximately 300 members. Like so many of Sarah's initiatives, the society is a vehicle for engagement as well as giving. Members are invited to learn about issues of importance to the community, and to connect to share ideas with other donors.
"My career has been rewarding and educational, and it has been an honor to work with generous donors, collaborative colleagues, and innovative nonprofits throughout my 20 years with The Denver Foundation," she says. "From working with more people, to encouraging family philanthropy, to creating more partnership opportunities, it has been a remarkable experience of building a healthy, diverse, engaged community organization."