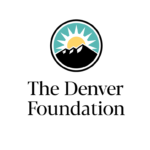 ---
"Life's most persistent and urgent question is, 'What are you doing for others?'"—Martin Luther King, Jr.
That critical question has remained top of mind for LaDawn Sullivan during her more than two decades of community-centered work with The Denver Foundation. But more importantly, it continues to fuel her drive as the executive director of the Black Resilience in Colorado (BRIC) Fund. She has always been focused on investing in historically marginalized people and communities to ensure they have what they need to succeed. In doing so, laying the ground for strong Black communities to grow.
Her unwavering vision, perseverance, boldness, and collaboration established programs such as Strengthening Neighborhoods, Elevating Philanthropy in Communities of Color (EPIC), and the Executive Directors of Color Institute (EDCI), which moved The Denver Foundation to invest in launching Colorado's first Black community fund, BRIC. Today, the BRIC Fund has granted more than $2.7 million to more than 170 Black-led and serving nonprofits, and is forging an independent path forward as a fiscally sponsored project of The Denver Foundation.
Have you asked what you can do for others? There is no time like the present to take action. Join individual donors, businesses, and foundations in being part of the BRIC Movement and contribute to the Build BRIC Campaign. Together, we can elevate Black leadership, voices, and power to build strong, equitable Black communities from the inside out – BRIC by BRIC.
To read more, visit bricfund.org/bric-news. To learn more about the Build BRIC Campaign, visit bricfund.org/build-bric.
---
PICTURED: LaDawn Sullivan, BRIC Executive Director
LOCATION: The Dr. Justina Ford mural by Max Sansing
PHOTOGRAPHER: Shameka "Meka" McBoat with McBoat Photography