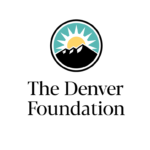 ---
New report highlights how The Denver Foundation and the community have faced a moment that changed us all.
I was only six months into my tenure as the leader of The Denver Foundation when the pandemic became startlingly real. On that Friday before the shutdown, we pulled our entire staff together, not knowing that it would be the last time we assembled in the same room together for months. And while we all knew the road ahead would be difficult, we couldn't imagine the ways The Denver Foundation and the community we serve would be challenged in the days and weeks to come.
Though it's certainly not the way I expected to get to know my new home, I've been amazed and heartened by the way our community has risen to meet an incredible moment. It's given everyone at The Denver Foundation strength and motivation to do our work better than ever before.
I'm honored to share Meeting the Moment: A 2020 Report to the Community with you. This report illustrates the way that, as a community foundation, The Denver Foundation is uniquely equipped to bring people together in times of crisis, to pool resources and put them to immediate use.
As you'll see in this report, every aspect of our work has accelerated since the pandemic took root in our community. We listened deeply to understand the community's most essential needs. In partnership with our generous donors, we activated our Critical Needs Fund to meet them.
Our fundholders responded with a similar urgency, quickly adapting their grantmaking strategies. In June, donor-advised giving was up nearly 30% over the same period in 2019. Since March, fundholders — including affinity groups, field of interest funds, and giving circles — have dispatched more than $46 million to hundreds of nonprofit organizations helping people in Colorado and across the country stay safe and healthy. Many of these nonprofits are fighting for their own viability, too, as the public health crisis continues.
As the pandemic has made very clear, philanthropy plays a huge role in addressing a community's struggles in times of crisis. Philanthropy also has a responsibility to bring people together to learn from the moment — and to lead us into a better future.
That's why The Denver Foundation has regularly convened our donors and partners to share resources and knowledge on issues that the pandemic has brought to the forefront, from systemic racism to the need for a stronger civic fabric. It's why we've collaborated with our foundation peers to launch new tools and resources including the COVID-19 Arts & Culture Relief Fund and the Rural Community Response and Recovery Project. And it's why we've built on our 25-year history of leading on racial equity to deepen our partnership with the Black community, including Black philanthropists, through the new Black Resilience in Colorado (BRIC) Fund.
I recently invited our staff to share how the pandemic has changed their work. Many spoke to feelings of deep unity and shared purpose. "The nature of a community foundation is such that our reach is far and wide," wrote a member of our Philanthropic Services Group. "COVID-19 provided an opportunity for The Denver Foundation to come together and connect every aspect of our work. We now see the full breadth and strength of our community foundation in a time of crisis."
There should be no doubt that we will face more challenging moments in the months ahead. With your continued partnership and generosity, I know that we'll meet them together.