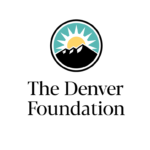 ---
We are thrilled that two staff from The Denver Foundation were recognized for their exceptional commitment to philanthropy in Colorado at National Philanthropy Day in Colorado: Chief Impact Officer Dace West and former Special Advisor for Engaged Philanthropy, Sarah Harrison.
National Philanthropy Day is the special day set aside to recognize and pay tribute to the great contributions that philanthropy — and those people active in the philanthropic community — have made to our lives, our communities, and our world. Celebrations are held annually in many states across the nation.
Dace West was recognized Outstanding Professional Grantmaker, and Sarah Harrison was recognized by as Outstanding Professional Fundraiser. Sarah Harrison spent 38 years in the nonprofit sector, including 20 years at The Denver Foundation, where she served in various roles including vice president of philanthropic services and, most recently, special advisor for engaged philanthropy.
Dace and Sarah have both been integral parts of our team, but their work reaches far beyond the foundation's walls. 
Dace West embodies our commitment to racial equity and champions our mission on a daily basis. Her nominators describe her various roles, from organizer to executive director, noting that she leads with her values and prioritizes the development of grassroots organization and community leadership. One describes "her visionary leadership in taking organizations to the next level," which is displayed in her work with community nonprofits as well as in her leadership at the foundation.
In addition to her leadership, Dace's nominators emphasize her ability to get things done, from her work developing the foundation's new strategic framework to her efforts to simplify application and reporting requirements for nonprofits. Dace's efforts in the foundation's grantmaking have ensured that grant recipients receive the most flexible support possible to do their work. Throughout her career, she has shown a commitment to working locally, and her knowledge of her community is both deep and far-reaching.
In their letters of support, Dace's nominators also highlighted her mentorship, which is evident from the team she leads as well as her work with nonprofit partners. The Denver Foundation's Impact group embodies a learning environment, a spirit of collaboration, and a place where all voices are valued. Above all, Dace's advocacy for diversity in all aspects of her work continues to advance the foundation's mission of a metro Denver that is racially equitable in its leadership, prosperity, and culture.
In her twenty years at The Denver Foundation, Sarah Harrison worked tirelessly to help donors identify the issues that they care about most. Her approach to working with donors is highly personalized; as one of her nominators writes, "Her focus is exclusively on helping donors achieve their philanthropic goals. She never tells donors what to support; nor does she ever let her personal philanthropic priorities influence the advice she gives."
Throughout her career, Sarah has consistently sought creative solutions to maximize gifts. At times, this has resulted in the development of entirely new programs. One nominator remembers that during the 2008 financial crisis, Sarah "created the Critical Needs Fund to provide a rapid response mechanism to funnel the generosity of donors directly to the most emergent community needs." As the COVID-19 pandemic struck in 2020, the Critical Needs Fund allowed The Denver Foundation to provide nimble and flexible support to our community. Sarah was also deeply involved in the creation of the Elevating Philanthropy in Communities of Color (EPIC) program, which has provided a model for identity-based giving circles at the foundation and nationally.
We are so proud of the work of these two extraordinary leaders, and we are excited to have celebrated their achievements at the National Philanthropy Day luncheon.
Congratulations, Dace and Sarah!