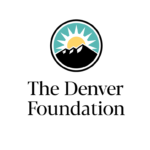 ---
When Navy veteran Frank Cordova was experiencing homelessness, he did not feel like he had many options. Suffering from back pain and post-traumatic stress disorder, he turned to self-medication. Cordova lost his family, friends, and his home.
"I don't regret any of that because it put me where I am today," said Cordova. He dedicated one year to healing both his mental and physical health. Along the way, he met mentors who inspired him to go back to school, earn a degree in counseling, and find a job that fulfilled him.
Today, Cordova is the associate director of the Day Works Program at Bayaud Enterprises, a grantee of The Denver Foundation. "Self-esteem is gone when you are homeless," said Cordova. His experience sparked a passion to give back and be the resource for others that he felt he needed when he was experiencing homelessness.
Bayaud has been his way of doing that. Bayaud is an organization working to create hope, opportunity, and choice for people looking to get back on their feet. They focus on people with disabilities and other hurdles to employment. Bayaud provides employment training, assessment, coaching, placement, and supported employment.
Executive Director of Bayaud, Tammy Bellofatto, said, "It's been amazing how many people we've gotten jobs [for] and the retention rates we have." Bayaud serves about 5,000 people a year, connecting folks to jobs like unarmed security, pest control, and document shredding. Among all the services Bayaud provides to help people with employment, the one with the biggest community impact is on wheels.
Bayaud has mobile showers and laundry services that drive to where people have the most need. There, people can use the showers and laundry to help them prepare for interviews or their workday. They will also find snacks and on-site resources for any questions they might have about a job.
"It allows them to go out there with pride and look for employment," said Cordova. Thanks to funding from The Denver Foundation and donors, Bayaud has been able to expand the Day Works program services from Denver into Adams County and the Lakewood community. "We love hiring people from the community. We love people with lived experience, and we are a second-chance employer," said Bellofatto.
"With the support of The Denver Foundation and donors, we're able to give people hope, opportunity, and choice." Tammy Bellofatto, Executive Director, Bayaud Enterprises
We believe that economic opportunity is achievable when the community has the tools and resources to build wealth, increase assets, and create local and just economies. The Denver Foundation believes in Bayaud's commitment to workforce development and a community-led model. This nonprofit is among a growing number of organizations funded by the foundation that are led by and for the community, for the community. Bayaud has been a grantee of The Denver Foundation and its donors since 1996, and a Community Grants Program grantee for the last two years.
"The services that Bayaud provides for these individuals allow them to take a step forward in life — to better their lives for themselves and their families," said Cordova. "It's great to see them coming back and letting us know where they're at now." Cordova's work helps people find jobs and gives him a sense of purpose, something that The Denver Foundation is happy to support.
Photos courtesy: Armando Geneyro