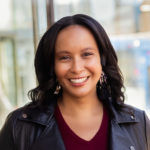 ---
There are two questions I constantly wonder about as a Denverite and in my role as Director of Policy and Government Affairs: What does it take for cities to grow and thrive while addressing challenges that create inequities? Is it possible to develop and correct past wrongs that have disproportionally impacted certain communities?  
As someone who learns best through interaction and immersion, I was excited to attend the Downtown Denver Partnership's Urban Exploration trip in Vancouver, British Columbia – not only as a participant, but as a steering committee member.  
Every year, the Downtown Denver Partnership takes city leaders from the for-profit, non-profit, and government sectors to learn how other cities are tackling issues ranging from housing, transportation, and homelessness. Each trip is curated based on learning lenses. This year's lenses were extremely relevant to the moment Denver is in:  
Intentional reconciliation, which is a concept of transforming relationships or communities damaged by conflict or oppression 

 

Activating public spaces in big and small ways 

 

Neighborhood livability means

 

Storytelling builds stewardship
You may not realize this but Vancouver, also known by locals as Van, is very similar to Denver:  
City population: 662,248 (2021)

 

Vancouver is one of the most livable cities in Canada and in the world in terms of housing affordability and is also one of the most expensive cities in Canada and in the world

 

Vancouver plans to become the greenest city in the world

 

Indigenous settlement of Vancouver began more than 10,000 years ago, and the city is on the traditional and unceded territories of the Squamish, Musqueam, and Tsleil-Waututh peoples

 

Vancouver has been called a "city of neighborhoods." Each neighborhood in Vancouver has a distinct character and ethnic mix. Neighborhoods with distinct ethnic commercial areas include Chinatown, Punjabi Market, Little Italy, Greektown, and (formerly) Japan Town

 
Over two and a half days I participated in immersive learning sessions, listened to presentations and panel discussions from local leaders, and had numerous conversations with attendees to process all that we were learning and observing. The two sessions that stood out to me the most were Impacts of Centralized Services on East Hastings Street and Heritage-Driven Redevelopment.
Impacts of Centralized Services on East Hastings Street 
East Hastings Street is a street in Vancouver's downtown east side. East Hastings is an area where unhoused community members can find social services for substance abuse, mental health, and housing. This area has come as a haven for those that have been displaced from their homes.  
While walking to our panel through East Hastings, the sense of community and belonging of individuals was vibrant. I also observed many people struggling with mental health and substance use issues. This experience framed my perspective when listening to subject-matter experts talk about displacement due to the relocation of the city's government offices and services. These leaders are doing work to right these wrongs. I learned three main lessons from this session:  
It is imperative to have a regional strategy and funding source.

 

Leaders say it is ideal to ensure that the approach entails safe injection and consumption sites and social services.

 

This structure works and is making a difference because they are providing earning opportunities for those experiencing homelessness, like the concept of the

Denver Basic Income Project

.

 
Heritage-Driven Redevelopment
This session provided an opportunity to learn how community organizations in Van intentionally engage with their stakeholders to pursue revitalization and redevelopment in ways that reflect cultural heritage. Specifically, we heard from leaders from:
As someone who deeply loves and is very worried about changes in cultural neighborhoods across Denver, I was inspired by this session. Especially because speakers highlighted policy and programmatic interventions that organizations are using such as land trusts, community benefit agreements, and zoning policies, to ensure redevelopments meet the needs of the community members. As a result, the projects to come will provide childcare, small business and nonprofit office space, and social housing.  
I still have much to process about the learnings and opportunities to adopt strategies in the foundation's work in Denver. I am thankful to the Downtown Denver Partnership for the opportunity to learn and be a part of the work to come to our city!