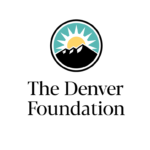 ---
In May, members of the Arts Affinity Group presented Dr. Ashley Hamilton, executive director and co-founder of the University of Denver's Prison Arts Initiative, with a Random Acts of Arts Philanthropy (RAAP) grant by way of song, flowers, and masks during COVID times!
The DU Prison Arts Initiative (DU PAI) generates creative and collaborative learning experiences that enrich the lives of people who are incarcerated and shifts the conversation about prison. DU PAI's programming opens dialogue between incarcerated people and their communities while empowering individuals to see themselves as leaders capable of creating meaningful change.
A Christmas Carol, produced by DU PAI, was six months in the making when it debuted at DU's Newman Center for the Performing Arts. Featuring a cast and crew of twenty-seven incarcerated women from the Colorado Department of Corrections (CDOC), Dickens' play was met with an emotional standing ovation, followed by an honest and moving Q&A session more powerful than the play.
It was such a learning experience for both actors, stagehands, and audience. Dean Williams, CDOC's executive director, spoke passionately about how DU PAI's programming is helping transform the lives of incarcerated individuals, and how it's up to the people on the outside to garner greater support for changes on the inside. Several local political leaders also attended the sold-out show and had only glowing reviews.
In late 2019, DU PAI, like most arts-based organizations, was hard at work bringing innovative programming to their workshop participants. Coming off their success of A Christmas Carol & One Flew Over the Cuckoo's Nest, their spring 2020 plans included productions of Antigone and Jesus Christ Superstar, featuring casts and crews from Limon Correctional Facility and Fremont Correctional Facility. Their three-year contract with CDOC was in the middle of year one. With this unprecedented contract came a lot of hope for shifting the conversation about prison.
The coronavirus pandemic halted so much of the inside work being done by DU PAI in the Spring of 2020. By not being able to meet in-person with their students, DU PAI had to shift to correspondence work. But, these changes are not stopping Dr. Hamilton's efforts to expand DU PAI's programming into all eighteen Colorado correctional facilities. This Summer DU PAI has managed to launch a brand new course in 11 CDOC facilities using correspondence methods and video lectures. DU PAI's programming brings critical meaning, self-expression, community connection, visibility, empowerment, and family support to hundreds of incarcerated people in Colorado. The CDOC has recognized the importance and benefits of DU PAI's programming and is looking forward to bringing them back physically into the facilities as soon as they are able.
With the Arts Affinity Group's RAAP grant, DU PAI can continue to bring excellent arts-based programming into Colorado's prisons through a correspondence curriculum that is underway. Dealing with COVID-19 in the prison system has proven very difficult. The Colorado Department of Corrections has taken extreme measures of safety and has kept its staff and incarcerated population far healthier than the national average. The generosity of the AAG grant supporting DU PAI came at a crucial time that can help bridge the programming gap with needed correspondence work, journaling, and art, as they move forward with recording their podcast With(in) and future issues of the newspaper, The Inside Report.
The Arts Affinity Group (AAG) advocates for learning through the arts and provides grants to advance innovation and engagement in the Metro Denver arts community. AAG is a giving circle within the Denver Foundation always welcoming new ideas and new members to its cause of finding and supporting local non-profit organizations making our community better. If interested, please email aag@denverfoundation.org Instagram: @arttankcolorado.
DU PAI: https://liberalarts.du.edu/prison-arts
The With(in) Podcast: https://liberalarts.du.edu/prison-arts/our-work/within-podcast
The Inside Report Newspaper: https://www.insidereportnews.com/april-2020
Instagram: @duprisonarts