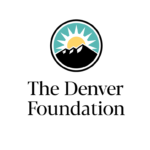 ---
Updated on Friday, September 4, 2020
The pandemic has changed so much about our world. At The Denver Foundation, we're so heartened by the way our community of fundholders, donors, and partners have joined with us to meet the challenges of this difficult time. We look forward to sharing a thorough update on our philanthropic and grantmaking response to COVID-19 in an upcoming report to the community. In the meantime, here are some updates on how we're partnering with generous people and hard-working organizations to serve people in Metro Denver and across Colorado.
Donor-Advised Fundholders Step Up
Since the COVID-19 crisis took hold in mid-March, donor-advised giving at The Denver Foundation has increased more than 30 percent over the same period in 2019, with substantial support for Colorado nonprofits and the Critical Needs Fund.
"Thank you for all the information about the Foundation's COVID response." — Rollie R. Kelley Family Fund advisers
Fundholders have directed 1,574 grants, totaling over $41 million. Fundholders and donors have made 231 gifts to the Critical Needs Fund, totaling more than $2.2 million.
Supporting Our Community: The Critical Needs Fund
Through our Critical Needs Fund, The Denver Foundation has granted nearly $1.2 million to 52 nonprofit organizations across Colorado. These organizations work with people who are vulnerable to the health and economic impacts of COVID-19, including housing insecurity and lack of access to food and health care services.
In addition, The Denver Foundation has granted $1.1 million in expedited funding to 42 nonprofits through our Community Grantmaking Program. These grants support COVID-19 relief in the areas of Basic Human Needs, Economic Opportunity, Education, and Leadership & Equity.
Pictured right: El Centro Humanitario.
View a list of nonprofit organizations that have received relief grants.
Collective Impact
The Denver Foundation has partnered with other government and philanthropic organizations to amplify our impact and ability to meet unique needs. We look forward to sharing news of more exciting new collaborations soon.
COVID-19 Arts & Culture Relief Fund
As Denver arts organizations are hit with an unprecedented loss in revenue due to the Coronavirus pandemic, Bonfils-Stanton Foundation and The Denver Foundation have teamed up to create the COVID-19 Arts & Culture Relief Fund, an emergency fund aimed at helping mid-sized arts organizations survive this crisis. In August, the COVID-19 Arts & Culture Relief Fund made its first round of grants, distributing $1.7 million in grants to 46 nonprofits in Metro Denver. Watch — COVID-19 Arts & Culture Relief Fund coverage on CBS Denver.
"[We] spoke to almost all of our small business partners to understand their financial stresses. People start crying as they begin to describe their unpaid bills and financial concerns. It is crushing to hear the desperation in our partners' voices … We are so grateful to have the TDF funds to help ease some of their worry." — Center for Community Wealth Building
The Rural Response & Recovery Project
A collaboration between The Denver Foundation, The Telluride Foundation, and ZOMA Foundation are pleased to announce the Rural Community Response and Recovery Project (CRP). This fund will specifically address gaps in infrastructure and capacity that have made it difficult for rural Colorado communities to navigate the economic and humanitarian impacts of the COVID-19 pandemic. In July, the first round of grantees were awarded a total of more than $1.5 million to support their community work.
COVID Recovery & Resilience
It will take big, bold ideas to pull us through this period of recovery. We know the best of these will come directly from the community. We're talking about ideas that reshape what life looks like when it returns to "normal"—and render it more equitable than it was before the pandemic laid plain the stark disparities that pervade our society.
In addition to responding to the immediate needs of vulnerable people and communities, The Denver Foundation is committed to supporting systems-level responses to the COVID crisis. Through the Recovery & Resilience Fund, we'll support initiatives in the following areas through an equity lens: Public health; social systems; economic recovery; education equity; public-policy improvements; systems improvements.
Investments through this fund to date:
Paid Medical and Family Leave/Together Colorado /$55,000
Metro Denver Immunization Action Plan/ Metro Denver Partnership for Health /$80,000
Cigarette Tobacco and Nicotine Products Tax/HB20-1427/Healthier Colorado /$60,000
"New Better"/Colorado Health Institute/$60,000
Fair Tax Colorado / Bell Policy Center /$80,000
Colorado COVID Relief Fund
The Denver Foundation is proud to support the Colorado COVID Relief Fund, a statewide fund created by Governor Jared Polis. The Denver Foundation has pledged $100,000 from its discretionary funds to this initiative and Denver Foundation fundholders have granted an additional $937,000.