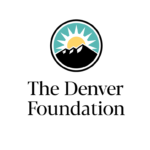 ---
The Minoru Yasui Community Volunteer Award honors extraordinary volunteers that make a difference in our community. In the best of times, the Committee would recognize recipients with a ceremony including their family, friends and members of the non-profit for which they had volunteered. These are not the best of times. The challenge. . . to create a celebration that was healthy and safe. The answer. . . the recipients' front porches. The last week in July, on two sunny afternoons, The Minoru Yasui Community Volunteer Award Committee honored two very special volunteers, Bev Bishop and Gilbert Vasquez, in their very own front yards.
Bev Bishop was honored for her work at Growing Home. Bev has been a volunteer for the past seven years at Growing Home, an organization in North Denver that works to break the cycle of poverty by "Strengthening Families, Nurturing Children and Connecting Community." At Growing Home, Bev has worked in the food pantry, picked up food donations, organized the pantry and served as the Growing Home Ambassador Manager. She has worked on fundraising and serves as Secretary on Growing Home's Board of Directors.
Bev served as a team lead in the food pantry, assisting with managing the pantry during operation hours and training new volunteers during their orientation. Bev's work as an Ambassador included working with staff to recruit tour hosts and guide them through the process of identifying and inviting guests to the facility. These tours would result in new volunteers and new donors over the course of time, supporting the ultimate mission of helping children and families break the cycle of poverty.
In addition to her work with Growing Home, Bev volunteers on the Board for the Westminster Inclusivity Board, and heads up a Kidney Walk team every year along with a Growing Home family who is awaiting a kidney match.
For the past 15 years, Gilbert Vasquez has donated his time and energy to the Delores Project. The Delores Project's mission is to provide safe, comfortable shelter and personalized services for unaccompanied women and transgender individuals experiencing homelessness. They also work to end homelessness by advocating for housing solutions.
On the first Thursday of each month, Gilbert, who is self-employed, stops his work and starts shopping for food. He is meticulous about his preparation and may shop at multiple stores for ingredients. He begins cooking the food the night before it is served. Together with his family, they prepare dinner for more than 60 participants including fresh tortillas, mole, beans and rice and serve dinner from their heart. Gilbert solicits donations from Cakes by Karen which he picks up and includes for dessert.
According to Lily Redford, Volunteer Coordinator for The Delores Project, "Gilbert is kind, personable and has an infectious smile that travels through the kitchen and dining room. I am continuously blown away by the amount of commitment shown by Gilbert and his family." The Vasquez family is critical to the mission of The Delores Project. They have lasted longer than most staff members and have referred countless volunteers that continue to support the mission.
These remarkable volunteers are a testament to the quote by Robert Kennedy, "The purpose of life is to contribute in some way to making things better." Without question, this quote clearly describes Bev Bishop and Gilbert Vasquez.
The MYCVA Committee proudly honored Bev Bishop and Gilbert Vasquez as recipients for all the ways they make our community a better place. Their giving hearts and commitment to making a difference in the lives of many, make them both most deserving candidates for this award. Bev has chosen to donate her $2,000 award to Growing Home. Gilbert has chosen to donate his $2,000 award to The Delores Project.
The Minoru Yasui Community Volunteer Award has been honoring extraordinary volunteers for the past 45 years. The award was conceived by the Commission on Community Relations in 1975 to recognize and promote volunteerism by honoring an individual each month whose volunteer contributions are constructive, unique and outstanding. More than 475 non-profits have benefited.
If you know of someone making a difference and would like to nominate and honor them, or if you would like to donate to this award please visit: www.minyasui.org.