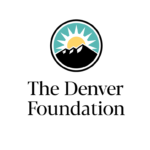 ---
Athletics & Beyond was the first recipient of a low-interest loan from the Metro Denver Nonprofit Loan Fund. This story was originally published by the Nonprofit Finance Fund. 
Cover photo by Athletics & Beyond pictures the four teenage boys who participated in the entrepreneurship program holding certificates at the bank where they started their savings accounts.
"Lifechanging."
According to executive director "Coach" Narcy Jackson, that is how the young people who participate in Athletics & Beyond programming describe the organization.
Founded in 2004 by Coach Narcy and Ali Jackson, both of whom grew up in the Denver area, Athletics & Beyond primarily serves young people in the Montbello, Green Valley Ranch, and East Denver neighborhoods. The organization offers sports-based youth development and college readiness programs that consist of four components: educational success, life skills building, career options, and athletic development.
Nearly one-third of Denver Public School students do not graduate high school in four years – or at all. Participating in athletics offers a potential path to success for many of these students; however, often only a small number of talented athletes receive the investment they need to achieve long-term success. Often, says Coach Narcy, these are the athletes that are told to "shut up and just dribble." In contrast, Athletics & Beyond takes a holistic approach: "That part about civic responsibility and giving back is a huge part of our program."
Alongside sports-based programming, the nonprofit offers a wide range of academic support, mentorship, and workforce development services that increase graduation rates and job opportunities for students who might otherwise struggle to finish high school. In addition, Athletics & Beyond applies a "two-generation" approach by providing workforce development and whole-person programs for parents of students through apprentice programs.
Instead of applying a one-size-fits-all model to every student that walks through its doors, Athletics & Beyond encourages participants to choose the programs that appeal to their interests. This personalized investment makes a difference: 100 percent of the students in Athletics & Beyond programs graduate from high school on time.
Long before the COVID-19 crisis, Athletics & Beyond faced barriers in accessing the capital it would need to grow. In 2016, the chair of Athletics & Beyond participated in a community enterprise development program designed to help entrepreneurs who had historically been overlooked by government funding successfully apply for micro-loans. "We walked away with zero," says Coach Narcy. "When we started to follow the money …it led to people who were gentrifying our community …pizza parlors, bagel shops, coffee shops."
"We asked the hard questions to Denver area micro-lenders," Narcy continues. "What black male entrepreneurs or businessmen have you given loans to?" When it came down to it, the lenders Athletics & Beyond had applied to could not answer that question. And time and time again, Narcy saw investors pass over local small businesses and nonprofits like Athletics & Beyond in favor of white business owners from outside of Montbello. "That was a painful experience," says Coach Narcy.
The onset of COVID-19 presented additional challenges. The organization's in-person, sports-based programming was difficult to recreate in a virtual environment. But when asked about the challenges of 2020, Coach Narcy focused on the positive: "COVID hit, and the federal SBA gave us a substantial amount of money that we've never seen." As it turned out, the COVID-19 crisis forced lenders to think differently – and to recognize that investing in local nonprofits like Athletics & Beyond could achieve major impact.
The SBA funding was the first of two big investments Athletics & Beyond would receive in the COVID-19 era. In March 2021, NFF closed a $100,000 working capital loan to Athletics & Beyond as the first loan in the Metro Denver Loan Fund – a collaboration between NFF, Community First Foundation, Rose Community Foundation, and The Denver Foundation designed to counter historic disparities in access to capital while financially supporting the Greater Denver region's nonprofit ecosystem. Athletics & Beyond will use this loan to hire two new full-time employees and to move into a new weight training and wellness facility that will serve as a hub for the Green Valley Ranch, Montbello, Parkhill, and Northfield neighborhoods.
Coach Narcy's personal experience has taught him the value of financial investment. So he's built that lesson into Athletics & Beyond's newest program. Over the summer of 2020, Athletics & Beyond loaned $1,000 each to four young men from Montbello to start their own micro-businesses. "Our chair Efrem Martin and I grew up shoveling snow, cutting grass, selling Kool-Aid," says Coach Narcy. "These kids have the same mentality."
"We were able to front them the money so that they could have masks made and t-shirts done," Coach Narcy continues. "Then they paid it off, they earned $442 each in profit, and they opened up savings accounts at Young Americans Bank in Green Valley Ranch."
When asked what comes next for Athletics & Beyond, Coach Narcy responds, "Our future is really bright."
"You gave us the tools," he adds. "Now see what we build."
Are you interested in applying for a loan from NFF? Click here to learn more about NFF's financing options.