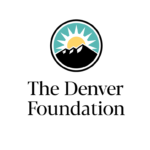 ---
The first round of grants under new Strategic Framework support economic opportunity, education, climate and environment, housing, and transportation in Metro Denver.
The Denver Foundation is pleased to announce nearly $1.7 million in grants awarded to 50 nonprofit organizations across Metro Denver. The grants reflect the priorities of The Denver Foundation's new Strategic Framework, including racial equity and constituent-led solutions to advancing economic opportunity, education, climate and environment, housing, and transportation.
A complete list of grant recipients is below.
The five focus areas of the Community Grants Program were identified in The Denver Foundation's new Strategic Framework, launched in February 2021. They were strongly influenced by community input and include two areas that are new to the Foundation's grantmaking: climate and environment and transportation.
"The Community Grants Program is the heart and soul of The Denver Foundation's work, and we are honored to support the innovation, authenticity, leadership, and hard work of these organizations," says Javier Alberto Soto, President and CEO of The Denver Foundation. "This group of grantees is especially meaningful, as they are all engaged with the issues hundreds of community members told us were most important to their lives and their futures."
Grants were awarded following a thorough review of more than 200 proposals led by Denver Foundation staff and members of the Advisory Committee for Community Impact, a newly formed volunteer body composed of over 50 local leaders. In keeping with the Foundation's commitment to racial equity, the committee prioritized organizations with Black, Indigenous, and People of Color (BIPOC) leadership, which represent 50% of the final award recipients.
"Many kudos to grant applicants for submitting mission-centered applications reflective of the broad landscape of services and resources essential for thriving, productive communities," says Anita Royal, a member of the Advisory Committee for Community Impact. "Many applicants proudly highlighted their meaningful committed and programmatic incorporation of the core priorities of diversity, equity, inclusion, and constituency engagement. Others delineated their improvement plans and/ or made genuine requests for assistance in these areas. As an African American community activist, advocate, and committee member, I was jubilant that all applications were filtered and evaluated through a diversity, equity and inclusion lens."
Also in response to community feedback, the average amount of grants is higher than in previous years, averaging between $20,000 and $50,000.
Through the Community Grants Program, The Denver Foundation aims to improve the lives of historically oppressed people living in Metro Denver, with a focus on people who live in low-income communities and Black, Indigenous, and People of Color (BIPOC) communities.
The program is funded by The Fund for Denver, The Denver Foundation's permanent endowment, built over generations to provide for community needs. Grants made through the program represent approximately 5% of The Denver Foundation's annual grantmaking.
Grants are made through the program in two cycles per year. Applications for the Spring 2022 cycle will open on March 1, 2022.
2021 Community Grants Program Recipients, Fall Cycle
Aurora Economic Opportunity Coalition
Bayaud Enterprises
Birdseed Collective
Camber Outdoors
Center for Community Wealth Building
Center for Employment Opportunities
Mile High Connects
Colorado Center on Law & Policy
Colorado Education Initiative
Colorado People's Alliance
Colorado Safe Parking Initiative
Center for Work Education and Employment 
Denver Homeless Out Loud
Dress for Success Denver
East Colfax Community Collective
El Alba Cooperative
Energy Resource Center
Enterprise Community Partners
Family Promise of Greater Denver
Girls Inc. of Metro Denver
Homies Unidos Denver
Junior Achievement Rocky Mountain
Kaizen Food Rescue
Metro Denver Homeless Initiative
Mi Casa Resource Center
Mi Familia Vota Education Fund
Mile High Ministries
Mirror Image
Montessori del Mundo
Movement 5280
Open Up
Padres & Jóvenes Unidos
Playworks Education Energized
Rocky Mountain MicroFinance
Safehouse Progressive Alliance for Nonviolence
Second Chance Center
THRIVE Center
Sims-Fayola Foundation
Soul 2 Soul Sisters
Spring Institute for Intercultural Learning
Stand for Children Colorado
Sun Valley Community Center
The Delores Project
The Family Tree
The Reciprocity Collective
Tribe Recovery Homes
United for a New Economy
Urban Peak
Via Mobility Services
West Community Economic Development Corporation
Youth Celebrate Diversity
About The Denver Foundation
The Denver Foundation is a community foundation that inspires people and mobilizes resources to improve life in Metro Denver. In 2020, the Foundation and its donors awarded $111 million in grants. The Denver Foundation has three roles: stewarding an endowment to meet current and future needs for Metro Denver, working with community leaders to address the core challenges that face the community and managing more than 1,000 charitable funds on behalf of individuals, families and businesses. To learn more about The Denver Foundation, visit www.denverfoundation.org.