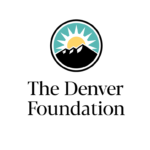 ---
Agency funds at The Denver Foundation help nonprofits plan for the future
When Michael Gadlin took over as executive director of PlatteForum last year, his vision was to dream big and grow. Just nine months later, the Denver-based nonprofit, which connects creative youth to paid internships in the arts, is on track to increase its budget to $1 million within the next few years.
"I believe in running through doors that open," says Gadlin, who honed an entrepreneurial spirit as a high-profile visual artist in Denver. "From the beginning, I've felt very supported by our community and our board to build on the work that came before me and put action to ideas."
Through ArtLab, its signature program, PlatteForum connects high school students to celebrated artists from Denver and across the country for mentorship and collaboration. The Denver Foundation and its fundholders have been a part of PlatteForum's story since its founding by Denver-based arts leader Judy Anderson in 2002. The organization has received multiple community and donor-advised grants through the years.
PlatteForum slideshow by The Denver Foundation
Gadlin first served PlatteForum in 2009 as a resident artist. He also served as both vice-chair and chair of PlatteForum's board. That training, as well as membership on the Arts Students League of Denver and Museum of Contemporary Art Denver boards, inspired him to approach PlatteForum's top job with boldness.
The mindset has already paid off. In April, for example, PlatteForum received a $275,000 grant from the Caring for Colorado Foundation after Gadlin pushed his staff to quadruple the amount of its typical ask.
"Ultimately, we want to grow who we serve," says Gadlin, noting that many PlatteForum interns are considered "nontraditional" and attend under-resourced Title I schools. "It's about serving youth who otherwise wouldn't have artistic opportunities and building on the legacy of this organization in a meaningful way."
The Denver Foundation is proud to help PlatteForum build that legacy. In 2020, the foundation partnered with PlatteForum to establish the Judy Anderson Founders Award Fund, a nonprofit endowed fund that supports the organization's investment and fundraising goals. PlatteForum is free to use the fund for grantmaking or any other purpose, though Gadlin says his goal is to allow it to grow and deepen over time while driving contributions. Over the past two years, PlatteForum's investment has grown by more than 31%.
PlatteForum is among 65 organizations to hold a nonprofit agency fund at The Denver Foundation. Nonprofits that invest with the foundation gain access to sophisticated investment services and diversification through pooled investing and the ability to accept complex gifts such as securities, real estate, trusts, and annuities. All administrative and accounting services are managed by The Denver Foundation, which also connects endowed agencies to one another through networking and educational programs.
"For many nonprofits, creating an endowment is a path to building long-term sustainability," says Javier Alberto Soto, president and CEO. "It allows them to focus on serving the community, knowing that their assets are being put to the highest use through mission-aligned investment with The Denver Foundation."
Capitol Hill United Neighborhoods (CHUN) holds two agency funds at The Denver Foundation, totaling more than $1 million, which support the long-term financial sustainability of one of Denver's oldest neighborhood organizations. Established in 2021 with proceeds from the sale of the Tears-McFarlane Mansion along Cheesman Park, CHUN's endowments include an agency-advised fund and operating reserves. Investment returns will support CHUN's annual budget and a new series of microgrants, known as SEED Awards. So far, CHUN has distributed SEED Awards to six organizations that serve Capitol Hill.
"We have been incredibly pleased with this process and worked closely with The Denver Foundation team to diversify our funding strategy while building in safeguards to prevent unwise financial decision-making in the future," says Richard Wilson, CHUN's board treasurer.
The Hadley Smith Bluff Nature Center Fund was established at the Bluff Nature Center in 2020 with a $1 million gift from the family of Hadley Smith, a Denver realtor and nature lover who passed away in 2018. As the bulk of the fund's assets grow through investment, the wildlife center in northeast Denver can withdraw up to $50,000 annually to support fundraising, planning, and, potentially, a future capital campaign.
"This fund meant so much for the growth and stability of Bluff Lake Nature Center," says Rachel Hutchens, the organization's executive director. "It has enabled us to plan for a bigger and brighter future, engage new funders, and show the financial stability of our organization to granting organizations and donors. It has made the difference between looking at the next year to looking at the next 10 or 20 years, knowing that we have the support to continue serving our community for generations to come."
To learn more about nonprofit agency funds, please email Zach Clapper, senior engaged giving officer, zclapper@denverfoundation.org, or call 303-300-1790.
Images: (Top) PlatteForum's Sigri Strand, Michael Gadlin, Kendall Kultgen, and Destany C. Rodriguez. (Middle) PlatteForum's Executive Director Michael Gadlin. PlatteForum photos by Flor Blake. (Bottom) Mule deer at the Bluff Lake Nature Center.