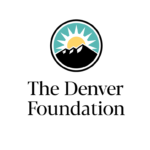 ---
Sparking the philanthropic conversation
What started as a cold and rainy morning outside of Mile High Station, quickly warmed up inside with some thoughtful and strategic discussions at our most recent professional advisors workshop. The Denver Foundation gathered two panels of experts to discuss a variety of topics around sparking and sustaining philanthropic discussions, in front of a large audience of Denver's top professional advisors.
Professional advisors, like attorneys, CPAs, financial planners, trust officers, and insurance agents are valuable partners to help their clients with their charitable giving. At The Denver Foundation we work closely with professional advisors to help their clients achieve their financial, charitable, and business goals.
Brook Kramer, CAP, CTFA from Bank of the West, kicked things off with a warm welcome and panel introductions. The first panel included:
Panel 1 (left to right) Brook Kramer, Jason Largey, Leslie Karotkin, Miranda Hawkins, Natalie Guard, Dace West

The group dove into a conversation around the challenges of discussing social issues with their clients and how professional advisors can talk with families who may have differing opinions. They shared ways to create space for clients to discuss the things that are important to them in a way that's productive and supportive.
"Advisors can and should provide that space for clients. We can help them find the 'how' that is the best fit for their 'why'. The Denver Foundation provides a great 'how' by educating clients and keeping them and their families involved, and keeping their passions at the forefront." said Miranda Hawkins, partner at Goddard & Hawkins P.C.
The panel then explored the challenges of creating community impact when working with donors who wish to remain anonymous. Focusing their philanthropy on giving through donor-advised funds is often a great way to keep anonymous donors engaged with the causes they care the most about. It also provides avenues to explore other opportunities, and connects donors to new ideas and new potential partners to impact the communities that are important to them. 
Next the audience worked through a collaborative exercise, using a digital tool called "Picture Your Legacy." This app is a great tool that professional advisors can use with their clients, utilizing a set of images to guide clients toward articulating their legacy. Professional advisors broke out into small groups and used the app to explore their own personal philanthropic motivators. Participants selected cards that best described their passions and motivations for giving, and shared them with their peers.
"Discovering our clients' philanthropic passions, and helping them to articulate how they touch down in their lives, is a key tool to deepen and expand our relationships with them." said Ben Perry, senior director of philanthropic investments at The Denver Foundation. This tool could be a useful resource to help professional advisors help connect their clients to philanthropy.
After the exercise the group transitioned to a new panel of experts and a different focus for the second half of the event. The second panel included:
Michelle Adams

, JD, Estate Planning Attorney, Law Office of Michelle Adams, LLC

Chris Anderson, CPA, ABV, ASA, Managing Director, Intrinsic LLC
Mira Finé, CPA, Retired Tax Partner, Moss Adams; Consultant, Woody Creek Management
Elizabeth T. Meck, MA, JD, Vice President, The Northern Trust Company
Benjamin Perry, Director of Advisor Programs and Charitable Planning at The Denver Foundation
Panel 2 (left to right) Mira Fine, Michelle Adams, Elizabeth Meck, Chris Anderson

The second panel focused on intent, interconnection, and imagination when working with families. Helping clients identify their individual reasons for giving and directing strategic conversations is critical when working with small businesses or multi-generational families. Understanding when to engage with children or grandchildren and establish that connection between generations is also something that The Denver Foundation can support. When professional advisors, philanthropists and The Denver Foundation work together to help imagine the long-term future, it creates a way to ensure that a legacy will continue long after someone's lifetime.
"Remember that each generation has their own unique perspectives and goals. There needs to be a willingness to engage people where they're coming from. Especially in multi-generational meetings. You need to take a step back, and give people opportunities to join the conversation from their lived experiences," noted Elizabeth T Meck, vice president of The Northern Trust Company.
Although it can be challenging to start these conversations with some families, there are materials and simple practices that can make the process more comfortable for everyone. The Denver Foundation works with professional advisors and their clients to facilitate these conversations, and lead to stronger, more rewarding relationships.
The Denver Foundation will continue to host these workshops in 2023, and will provide our network of advisors with tools, exercises, and resources that can benefit your business. These are great opportunities to connect with other professional advisors, and the team at The Denver Foundation. We are here to support your clients' goals in a variety of creative and effective ways. Join our mailing list so you don't miss out, and we look forward to seeing you in 2023!
---
All Images by Amanda Tipton Photography | FB- Amanda Tipton-Photographer | IG – @amandatiptonphotography