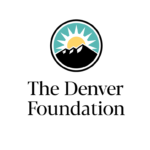 ---
Place-based giving focuses on the challenges of a local ecosystem and draws on the experience, expertise, and resources of local partners to create solutions best suited to each specific community.
Because of our deep community connections, The Denver Foundation provides expert advice to donors for place-based giving. "Place-based giving falls directly in line with the mission of The Denver Foundation to inspire people and mobilize resources to strengthen our community," said Claire Tobin, The Denver Foundation's major gifts officer. "True change starts at the local level, and connecting philanthropists with local organizations to make an impact is a joy in my role."
The Denver Foundation strives to support the evolving demands of Metro Denver, connecting interested donors with local partners to address immediate needs. "We work daily to achieve our ambitious goal of serving the greatest needs of our community," explained Tobin.

Joanne Posner-Mayer, with her support of the Posner Center for International Development in Curtis Park, is an example of this concept in action.
Joanne Posner-Mayer
Driving around Curtis Park and Five Points is nostalgic for Posner-Mayer. She grew up in East Denver with her parents, Jerry and Hanna Posner. Jerry was an entrepreneur who owned and operated Franklin Hardware on 34th Avenue and Franklin Street from 1958 to 1973.
Posner-Mayer remembers spending afternoons in the back of the store reading or coloring. Occasionally, she also helped customers. "Because of the store, I got used to meeting all kinds of people with different backgrounds," she reflected. Little did she know, those early experiences would shape the businesswoman and philanthropist she is today.
As a philanthropist, Posner-Mayer is passionate about the arts and collaboration. She got involved with The Denver Foundation in 2010 at her financial planner's suggestion. Today, she is also a member of the Community Legacy Society, naming The Denver Foundation in her will. Through her funds, she has given nearly $1 million in grants.
Her family's history is at the core of why giving and creating a charitable legacy is so important to her. "My parents were from small families. I'm an only child, and my son is an only child. My parents were both immigrants, and my mom is a Holocaust survivor," explained Posner-Mayer. 
The Posner Center for International Development
One of the most meaningful grants Posner-Mayer has given was to complete a large nonprofit international incubator center. The Posner Center for International Development was named after her parents, thanks to her gift. Established in 2013, the Posner Center brings together organizations, building an engaged, thriving community where people meet and learn about one another, exchange ideas, access shared resources and support, and ultimately combine their expertise to reduce poverty and social inequity around the globe.
The Posner Center provides office space and collaborative workspaces for 180 member organizations in the US and worldwide, accommodating on-site and off-site partners. Fifty of those member organizations utilize their physical space, and each organization occupies its own footprint in the building while sharing communal areas, meeting rooms of all sizes, and access to other office necessities. It's an incubator for local ideas and international partnerships to flourish.
The Posner Center was built just a few blocks away from where Posner-Mayer's dad's hardware store was once located, which felt like a perfect fit. "Giving back to a neighborhood that's important to my family is important to me," said Posner-Mayer. "I like to pay it forward for the betterment of new generations."
In addition to her financial contribution to the Posner Center, Posner-Mayer also sits on its leadership councils, which serve to advise the board of directors and the executive director. It's just another way she has shared her gifts with a place that has meant so much to her. "I was brought up Jewish; we're taught to leave the world a better place," said Posner-Mayer. She's living out that principle every day.
"I wanted a legacy for my family, my grandchildren, and future generations." - Joanne Posner-Mayer
Start your place-based giving
The Denver Foundation has a myriad of ways to connect donors with organizations around Colorado. "Place-based giving can be done in many ways," explained Tobin. "We meet with our donors individually to discuss their interests and goals and learn about which places matter to them. Our networks and relationships within Colorado allow us to find the perfect match for generous donors to collaborate with community organizations to address pressing local needs. It's a win for everyone involved."
To learn more about place-based giving or find a way to give where you live, contact your relationship manager or email information@denverfoundation.org.